Luxury Vinyl Plank Luxury Vinyl Tile
See the latest designs in luxury vinyl flooring options that look like natural stone and wood at Carpet Royale's showroom in Manassas VA. Carpet Royale & Rug is your one stop solution for all your flooring needs.
Luxury Vinyl Plank / Luxury Vinyl Tile Flooring - Remarkably Resilient (LVP/LVT)
Beauty, durability, and value....You can have all three! Vinyl flooring is exceptionally durable and easy to clean. Resilient vinyl flooring is a perfect choice for high traffic areas. Vinyl is known for its versatile array of designs including wood, tile, and stone. Visit our store and browse the selection to find a durable and stylish vinyl sheet floor in a look to match your décor. Vinyl sheet is even available in wood, stone, and slate visuals.
Our selection of luxury vinyl flooring, offers the perfect combination of beauty, low maintenance, and durability. With hundreds of unique colors and patterns, you are sure to find the perfect look to coordinate with your decor. We carry a variety of vinyl options including sheet vinyl, luxury vinyl plank (LVP), luxury vinyl tile (LVT).
LVP/LVT Flooring - The Beauty of Hardwood PLUS Durability
Do you have an active family? Are you looking to find flooring that is easy to maintain? Are you worried about maintenance or that the floor may be scratched? Luxury Vinyl Plank or Luxury Vinyl Tile (LVP/LVT) may be your answer. Due to the structural development, this flooring will not stain or fade from sunlight and is highly impact resistant. Getting the look, feel and style you want has never been easier. Come in and find out which type of flooring is right for your needs.
Texture vs Smooth
Distinctive Planks
Traditional Planks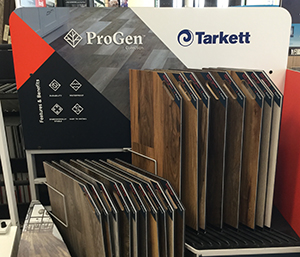 Authentic Textures • Distinctive Grain
LVP/LVT flooring gives the look and feel of domestic hardwood, rare exotic hardwood or expensive stone at a fraction of the cost. LVP/LVT can visually replicate the look of wood, stone, brick and ceramic because of its highly detailed photography of the original material.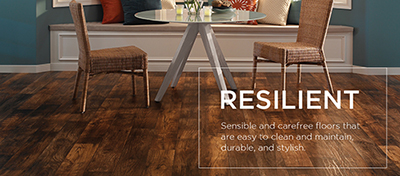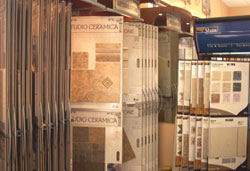 LVP/LVT flooring is very durable and made to look like new for many years with little maintenance. By following some simple cleaning and maintenance tips, you will ensure that the beauty of your flooring will last as long as possible. Enjoy the simple maintenance of light vacuuming or the quick use of a mop or damp fabric.
Realistic looks create the beauty and design sophistication found in our laminate flooring collection. They're durable and affordable, and these floors can be installed anywhere in your home – that's the real beauty of this flooring style. LVP/LVT flooring is able to offer you the look and feel of true hardwood flooring, while keeping costs low.
Get the look of classic wood and tile designs and the latest technology with innovative flooring. Ease of installation and care make it a smart flooring choice.